ABOUT US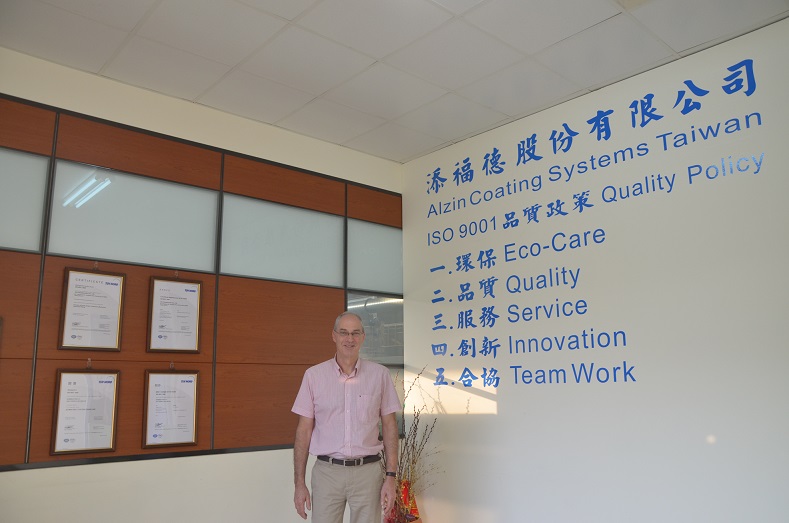 XIOD
®

‬‭ Technology
Opens up a New Page for Coating Technique – Alzin® Coating Systems Taiwan
Alzin Coating Systems Taiwan is Taiwan's up-to-date professional galvanizing and coating plant. It was established by a leading Australian company in the industry for the purpose of a strategic alliance in 2007. Alzin Coating Systems Taiwan holds a strong belief that only through the use of supreme materials can our clients' expectations for quality be truly guaranteed and answered. Accordingly, all the materials we use are originally imported from Australia. Now we are ready and cordially invite you to contact us for various kinds of coating service.

Alzin Coating Systems Taiwan has successfully developed the all new anti-rust technology called "XIOD®" for mechanical galvanizing surface treatment. This is the era when environmental sustainability is on the top priority and when efficiency, product quality, and water/energy saving are seriously taken into account, and XIOD® has nailed it! The birth of XIOD® took a total of 5 years and the idea came up from Peter Cook, the managing director of Alzin Coating Systems Taiwan as well as a member of the fastener sub-committee of Standards Australia. Peter was more excited than anyone else, and he successfully replicated Australian metal surface treatment technology to Taiwan. "Previously, we mainly took orders from the Australian market. Today, we expect to tap into the American and European markets and attract new clients with our new brand XIOD®. This new technology (or manufacturing process, so to speak) can be customized for companies looking for high added-value.", says Peter.


XIOD
®

Creates Faster Tapping Speed and Superior Antirust Capability
It Has Acquired Critical Certificates and Patents That Help Win Trust from Partners

Alzin Coating Systems Taiwan is a surface treatment company with clients mainly from the fastener industry. It is able to offer service for corrosion resistant fasteners and parts including construction screws, self-drilling screws, self-tapping screws, slotted screws, screws with washers, special screws, high-tensile bolts and hardware. Its capacity can reach 500 tons per month.

Alzin has been made an internationally Patent Pending for its XIOD® plating technology which performs better than other traditional coatings when compared with ASTM 695 and AS 3566 (Australian, Class 3 & 4). Fasteners with ALZIN XIOD® technology tested in ISO 9223 Category 4 (highly corrosive) and Category 5 (very highly corrosive) environment demonstrate an equivalence of over 35 and 15 years of corrosion resistance respectively. It means that self-drilling screws with XIOD® coating exceed the corrosion resistance level of galvanized steel sheets. Then, find that self-drilling screws with XIOD® coating have a faster and more consistent drilling speed that other mechanical zinc coatings do not offer.

We want to emphasize that, "Tapping speed and the service life of products are two critical requirements of customers when products are delivered to surface treatment plants. The excellent performance of XIOD® is self-evident." Furthermore, "The material cost takes up quite a large proportion of the total operating cost for a surface treatment plant, because zinc, tin, and other special alloys are all expensive metals. Tin can act as a lubricant that is not only favorable to achieve high drilling speed and keep stability of product quality, but is also good to enhance the antirust capability. XIOD® is a world-grade technology compliant with national standards for environmental protection."


Improving Environmental Protection Level with Introduction of Australian Waste Water Processing Equipment into Taiwan
High transportation cost in Australia usually becomes a barrier to hold potential clients back. As one of the main fastener manufacturing bases in the world, Taiwan is always able to offer stable product quality and continuous improvement in forming technology, which is why many clients from around the world (including Australia and New Zealand) would really love to place their orders to Taiwan. We once considered shipping semi-finished screws from Taiwan to Australia for secondary processing before shipping them to local Australian clients, but we finally found a more cost-effective way to set up a base directly in Taiwan to save more time, labor, and cost!"
Water shortage has become one of the hot issues around the world. If you can outperform others in water-saving, you get a key to establishing your own competitive edge. "XIOD® has been introduced into Taiwan successfully. Next, we plan to introduce Australian waste water processing equipment. We expect that our plant can perform even better in environmental protection and water-saving." ALZIN XIOD® opens a new page for coating technology, and Alzin Coating Systems Taiwan is ready to tap into the global surface treatment market!